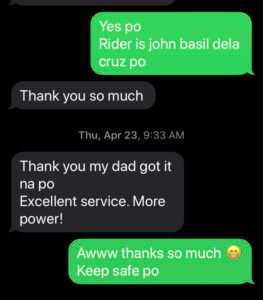 ---
Dear Sir Robert and Ms Tess
In the light of the COVID 19 situation, our Marvel drivers, helpers and riders are here to service Phil Seven 7-11 in the prompt delivery of the needed food and other commodities to the different stores in Metro Manila and nearby provinces.
Our team is fully aware of the danger they are facing in this extraordinary times and we salute them. We are giving them a little allowance to encourage them further in their commitment to their jobs.
We have also been taking the following steps to protect our employees so we may continue to deliver for you:
1. Sanitizing and disinfecting our office and barracks with bleach and lysol/solbac twice a day
2. Staff and crew are given vitamins c and d daily to boost our immune system
3. Reminders on how to avoid COVID-19 are posted in our crew board, common areas and wash areas.
4. All trucks, crew and riders have alcohol so they can sanitize their hands and trucks in between deliveries.
5. Contact tracing list: we have a list of home address, work address and school address of staff and crew and their family members for easier tracing in the event of a COVID-19 incident
6. We have separated our offices to ensure continuity of business.
You can always count on us and please let us know how else we can help each other especially through this difficult time.
Thank you and stay safe.
Cheers.
Replied;
Hi Celine,
Sir Robert and I really appreciate your support to CDI during this difficult time.
Regards,
Tess
Hi Celine,
Good afternoon!We appreciate your company's proactiveness in dealing with the current pandemic state of our country.And the commitment to be of service to CPFI and our end consumer at this time is immeasurable. Not to mention that you and your company have been doing really good service not just during the pandemic but the entire engagement with us even during peak months and holiday. We appreciate you for that.
Hats off to you Celine and to the whole organization of Marvel. Keep it up! God bless you and Marvel!
Regards,
Ikit Romano