[vc_row full_width="stretch_row_content_no_spaces"][vc_column][logistic_header image="2744″ title="Why Trucking Services with Marvel?" subtitle="No job is too big or small, we cater to them all. We deliver everything from container cargo to high value items to all points of Luzon. Trucking services start at P4,500 per 10 hours. Rates negotiable depending on the items. All our trucks are equipped with GPS dash-cams for security and to ensure safe delivery of goods. For personalized consultation and quotation, please contact us."][/vc_column][/vc_row][vc_row full_width="stretch_row_content_no_spaces" el_class="section-area section-bg_mod-a section-title-block"][vc_column][logistic_section_head title="MAIN SERVICES" subtitle="What we offer"][/vc_column][/vc_row][vc_row][vc_column width="1/3″][logistic_header image="2802″ title="Marvel Mart! Coming Soon…"][/vc_column][vc_column width="1/3″][logistic_header image="2830″ title="Open to serve in all parts of Luzon."][/vc_column][vc_column width="1/3″][logistic_header image="2702″ title="We also cater to SMEs (Small and Medium Enterprises)."][/vc_column][/vc_row][vc_row][vc_column][vc_empty_space height="20px"][/vc_column][/vc_row][vc_row][vc_column][logistic_section_head title="Our Clients Comment's Section" subtitle="Satisfied Clients"][/vc_column][/vc_row][vc_row][vc_column][logistic_html_block]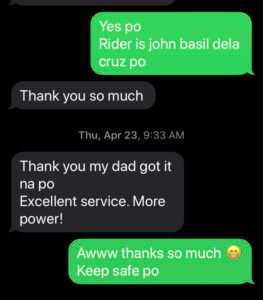 ---
Dear Sir Robert and Ms Tess
In the light of the COVID 19 situation, our Marvel drivers, helpers and riders are here to service Phil Seven 7-11 in the prompt delivery of the needed food and other commodities to the different stores in Metro Manila and nearby provinces.
Our team is fully aware of the danger they are facing in this extraordinary times and we salute them. We are giving them a little allowance to encourage them further in their commitment to their jobs.
We have also been taking the following steps to protect our employees so we may continue to deliver for you:
1. Sanitizing and disinfecting our office and barracks with bleach and lysol/solbac twice a day
2. Staff and crew are given vitamins c and d daily to boost our immune system
3. Reminders on how to avoid COVID-19 are posted in our crew board, common areas and wash areas.
4. All trucks, crew and riders have alcohol so they can sanitize their hands and trucks in between deliveries.
5. Contact tracing list: we have a list of home address, work address and school address of staff and crew and their family members for easier tracing in the event of a COVID-19 incident
6. We have separated our offices to ensure continuity of business.
You can always count on us and please let us know how else we can help each other especially through this difficult time.
Thank you and stay safe.
Cheers.
Replied;
Hi Celine,
Sir Robert and I really appreciate your support to CDI during this difficult time.
Regards,
Tess
Hi Celine,
Good afternoon!We appreciate your company's proactiveness in dealing with the current pandemic state of our country.And the commitment to be of service to CPFI and our end consumer at this time is immeasurable. Not to mention that you and your company have been doing really good service not just during the pandemic but the entire engagement with us even during peak months and holiday. We appreciate you for that.
Hats off to you Celine and to the whole organization of Marvel. Keep it up! God bless you and Marvel!
Regards,
Ikit Romano
[/logistic_html_block][logistic_section_head title="We Pray for the Safety Of Everyone" subtitle="A Message From The Marvel Staff Management"][vc_hoverbox image="2693″ primary_title="Celine" primary_align="left" hover_title="Message from Celine" hover_background_color="orange" el_width="50″]As we embrace the "new normal" in these uncertain times of Covid-19, please be assured that Marvel is taking every precaution to maintain the safety of its employees and clients.
Here are Marvel's safety commitments:
▪️Free Vitamin C and D for each employee since February 2020 to boost their immune system
▪️Temperature check upon entry to the office
▪️Disinfecting alcohol for every employee, truck, and motorcycle to sanitize between deliveries
▪️Liquid soap is provided to boost hand hygiene before, during, and after work hours
▪️Issued personal protective equipment like masks and face shields to further protect them during deliveries
We make sure we are healthy to make sure your deliveries are safe.[/vc_hoverbox][vc_hoverbox image="2731″ primary_title="Kit" primary_align="left" hover_title="Message from Kit" hover_background_color="orange" el_width="50″]We at Marvel are continuously executing the best quality logistics practices for our clients and partners by providing them excellent service tailor-fit for their growing needs especially at this challenging times of this world wide pandemic. By prioritizing the welfare of all our crew and employees and making sure that the sanitation protocols are observed and by extending them our heartfelt support, they may unceasingly do their jobs without the fear of exposure to Covid-19, hence sustaining their families' needs.[/vc_hoverbox][vc_hoverbox image="2700″ primary_title="Ralph" primary_align="left" hover_title="Message from Ralph" hover_background_color="orange" el_width="50″]During this Covid-19 pandemic, we take care of our people by educating and reminding them the preventive measures and basic things to do to avoid the virus and always be safe.
We encourage them to regularly wash their hands with soap and sanitize with alcohol/sanitizer after any transactions and activities they will do during operations. We also provided them with face masks and face shields for additional protection and safety.
Covid-19 attacks people who have weak immune system so due to this and to strengthen the immune system of our people, we provided free vitamins that they will take daily to ensure that our people are ready and protected to face the outside activity of transport and delivery operations.
We are in continuous study for the additional safety we can provide, this is how we take care of our people. We treat them as our own family. "Malasakit is number one"[/vc_hoverbox][vc_hoverbox image="2713″ primary_title="Ariel" primary_align="left" hover_title="Message from Ariel" hover_background_color="orange" el_width="50″]In times of this crisis covid19 that we are all heroes in our on responsibility to our own work, employees and clients. In all modesty, we want Marvel Trucking Solutions, Inc. values to shine at this difficult hour. We earnestly and humbly request all of our co employees, crews and clients to contribute to this. This is the moment for extra effort, for going the extra mile. We fully recognize we are asking a lot because all of us are also busy managing challenging personal and family situations at this moment. The effort for the one of us will make a huge difference to our company and to our society.To overcome this unique challenge, we are always request and address all our crews,co employees and their family to stay at home and keep safe always, and don't forget god is always with us.[/vc_hoverbox][vc_hoverbox image="2716″ primary_title="Bergie" primary_align="left" hover_title="Message from Bergie" hover_background_color="orange" el_width="50″]This pandemic is still challenging us, but we're still keeping up by making sure that the quality of service we provide is at its best. We assure you that we, in Marvel, are doing all that we can to keep our employees and clients safe.
So, stay at home, keep safe, and leave your delivery concerns to professionals. We got your back![/vc_hoverbox][vc_hoverbox image="2698″ primary_title="John Paul" primary_align="left" hover_title="Message from John Paul" hover_background_color="orange" el_width="50″]These are unsettling times and COVID-19 is clearly impacting our personal and professional lives, and those that we love. I wanted to wish you, your loved ones and fellow colleagues safe passage through this difficult period.
Please take care, stay positive and find sometime to have fun and to smile. It is challenging operating under the current restrictions; however, I am confident we will get through this, together.[/vc_hoverbox][/vc_column][/vc_row]